Involve helps Welsh Government to improve collaboration and reduce costs with immersive telepresence solution
The challenges of managing an organisation with staff based in multiple locations, both nationally and internationally, are many and increasing. The need to control costs and ensure that staff productivity is maximised can sometimes lead to diverging aims that actually achieve neither. But, if approached in the right way both these targets can be met and operational efficiency improved.
This holds true for both commercial and public bodies, as the Welsh Government recently demonstrated. Formed in 1999, the Welsh Government has over 5,000 employees in a total of 35 offices across Wales. With an annual budget of nearly £15 billion in 2013/14, it has law making powers for 20 areas including education, health and economic development.
The Government is keen to embrace better ways of working for its staff and has been an enthusiastic user of video conferencing for many years as Dave Milner, Head of ICT services at the government explained. "Our video conferencing investment had reached a successful adoption level around 2011, but we wanted to find a better technology to drive the use of it to more senior people within the organisation and ensure more successful meetings."
Immersive telepresence
The Government turned to Involve, its long time visual collaboration partner to come up with a solution. Involve is a UK leader in the creation, design and support of Visual Collaboration business solutions. Extensively experienced in both the public and private sectors, Involve helps organisations and their workforces accelerate business performance on every front.
Jason Ward, Sales and Marketing Director at Involve, takes up the story. "We have looked after the Welsh Government's visual collaboration requirements since 2008. We deliver a full managed service that involves having a number of our staff on site at all times. When we were approached with this requirement we knew immediately what the required solution should be – immersive telepresence."
With an immersive telepresence solution, conversations and insights unfold as easily across a great distance as when all participants are in the same room. Looking eye to eye across a virtual desk with remote participants, seeing them in life-size HD video and hearing what they say in crystal-clear HD audio, gives the feeling of being in the same room, not miles apart.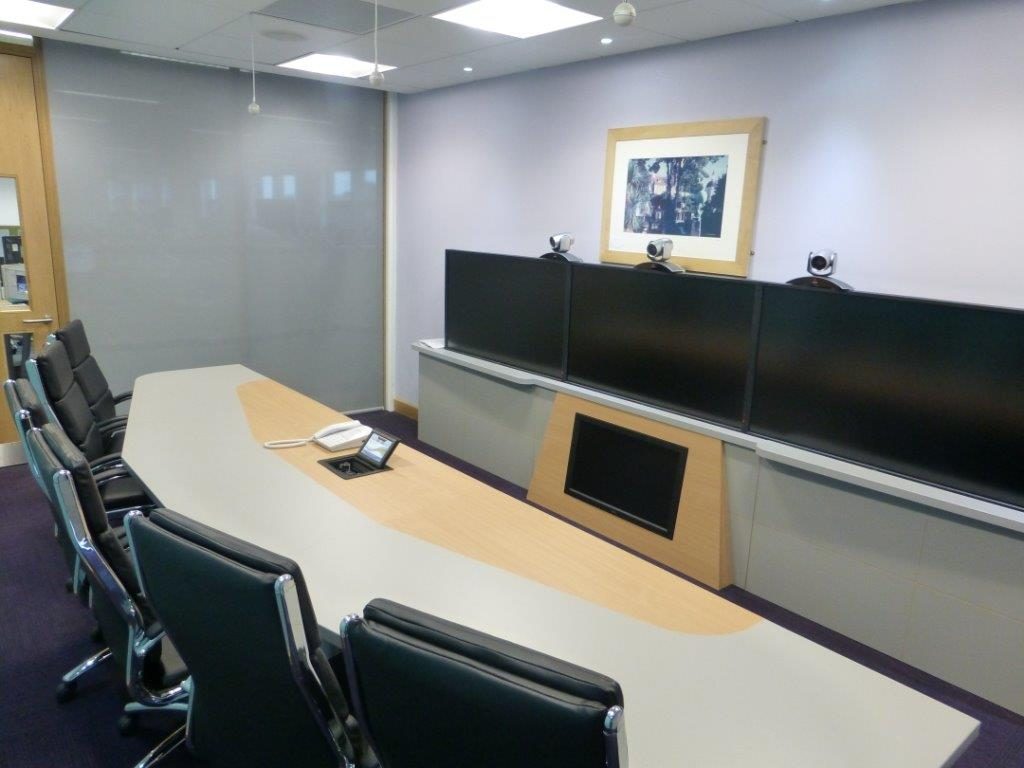 Walk-in collaboration
Involve recommended the implementation of the Polycom ATX immersive telepresence solution as Jason explained. "With invisible technology and cinema-quality video and audio ATX offers the lowest TCO and fastest ROI, with bandwidth costs reduced by as much as 50% and designs that minimise costly room modifications."
"It enables staff to simply walk in and start collaborating as if they were sitting across the table in the same room and experience clarity so realistic, they will forget they are many miles apart. In addition it offers the broadest native interoperability."
It was decided that four of these suites be installed at Government offices across the country: Merthyr Tydfil, Aberystwyth, Cathays Park (Cardiff) and Llandudno junction. Involve's experience in designing and implementing ATX immersive telepresence solutions enables them to offer a variety of options on screen numbers, furniture and displays all tailored to meet existing roomrequirements.

Full project management
It was decided to standardise on a three screen layout across all the sites to ensure ease-of-use for employees as well as deliver a totally natural experience, with participants able to see facial expressions, make eye contact and read body language.
The project commenced in April 2012 as Jason explained. "First, we carried out surveys of all the rooms that were due to be used to ensure that they met requirements such as wheel chair access and furniture layout. This enabled us to identify any likely issues at the outset and get them resolved quickly to ensure they did not cause a larger problem later on."
"We tweaked the standard layout for a number of rooms without compromising on the standardisation and the quality of experience that the Government wanted to provide for their staff. We then project managed the entire installation of the suites using Prince II methodology to ensure a smooth and trouble free implementation on-time at the end of 2012."
Realistic meeting experience
Commenting on the benefits of the new solution Jason said, "ATX immersive telepresence is the maturing of video conferencing technology to provide a highly realistic meeting experience. Additionally, it is also very affordable with a typical room costing around £100K. This means that it can deliver a very rapid ROI with the savings in travelling time and expenses that employees and senior staff will enjoy."
Dave Milner concluded, "The immersive telepresence solution delivers an experience that gives our senior users more confidence when using our video conferencing estate. It enables the senior people within the Government to use it more productively in more tactical meetings for longer periods of time and so helps us reduce costs and improve productivity at the highest level."