MDT Room Solutions
Involve have years of experience
providing reliable and user-friendly MDT
room solutions for the NHS
We understand the importance of Multi-Disciplinary Team Rooms requiring reliable technology capable of working for long hours. Involve MDT solutions are designed with reliability, connectivity and security as a priority. Where you connect remotely using Microsoft Teams, HSCN Secure video connections or Traditional Video Conference Systems, we have the know how to make it work
Our technically sound MDT designs, backed by our comprehensive support, gives peace of mind that downtime will be at an absolute minimum.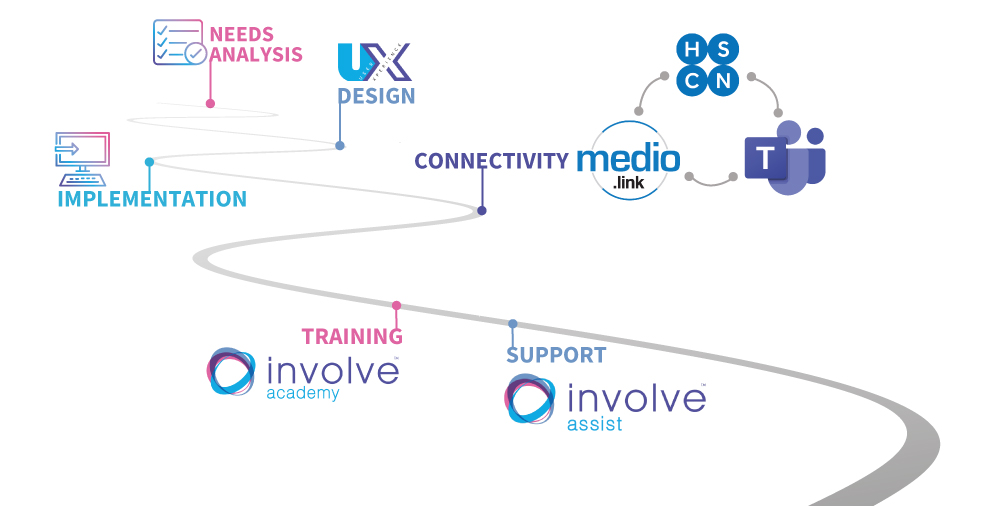 Let Involve be your Safe Pair of Hands
Our experience in the design, delivery and support of Healthcare Technology solutions & Services is extensive. We are "the healthcare technology experts" working with you, communicating clearly every step of the way ensuring projects and services meet critical deadlines. All of our connectivity is native HSCN and our Microsoft Collaboration Partner status ensures we know how to build Microsoft Teams Room technology into a Multi Disciplinary Team meeting environment.
MDT Technology
The Involve technology portfolio is specifically aligned to delivering successful technology solutions to Healthcare as a priority, focusing on ease of use, value for money and reliability. Our comprehensive MDT solutions will eliminate all your technical and financial worries.
Microsoft Teams Room
Traditional Videoconferencing Connectivity
Native HSCN Connectivity
Simple conferencing set-up process
High quality HD/4K display of video and still images
DICOM Displays
Integration with all clinical workstation, microscope, visualiser and medical cameras
Empower Healthcare Professionals with Microsoft Teams
As a Microsoft Communications Partner our teams understand what it takes to deliver Microsoft Teams Devices into NHS, HSCN and Private Healthcare environments.
Experience high quality audio and video meetings across a variety of healthcare settings supporting continuity of care, ease of access to communication, and patient to provider safety.
Full MTR / MDT Integration Experience
Collaboration Bars
Speakerphones
Personal Devices Also Available

Secure Video & Audio Connectivity
Involve developed Medio.link, the most secure and reliable meeting platform in UK healthcare, to provide the NHS and private healthcare market with HD video conferencing and audio participants too, for MDT rooms, NHS meeting rooms and devices. Medio.Link resides in the HSCN network and is the most secure cloud video platform for MDT conferencing available today.
Adding medio.link to your MDT gives:
Video Conference Endpoint Device Management
Microsoft Teams Connectivity, read more about that here
Pro Active & Remote Monitoring
99.99% dedicated reliability and security with ISO27001
MDT Support
Involve Assist delivers intelligent support, maintenance and monitoring to ensure that your technology investment is protected and utilised at full capacity.
The Involve Assist Team can notify your key users when there is an issue that may cause a negative experience in your meeting rooms. Involve will resolve the issue remotely where possible, or work with an onsite nominated contact. Where issues cannot be resolved remotely, an engineer will be dispatched.
 Proactive Monitoring
24/& Support Available
Telephone & Video Support
Full Parts & Labour Warranty
Advance Hardware Replacement
Regular Service Review Meetings & Reports
Asset Tracking• Customer Portal
Software Updates
Live Status Updates
Training
Involve are highly experienced at working within healthcare, and regularly deliver informative training to clinicians and staff across the NHS and private healthcare, this includes designing & delivering training packages specifically designed to suit the needs and capabilities of your users.
Usage & Adoption Programmes
Bespoke Training Sessions
Remote Training Sessions
Super User Training
Train the Trainer
Ref; SBS/18/CR/WCN/9343

SBS Lot 2 – Multi-Disciplinary Team Room and Conferencing Facility Room.
Providing design, technical consultancy where required and implementation of a conferencing facility or Multi-Disciplinary Team Room. There is provision for the solution to integrate with operating theatres, supporting staff efficiency and the improvement of patient care, patient discharge and waiting times. The lot includes, but is not limited to video conferencing suites, storage, speakers and two-way audio systems, wall mounted and free standing screens, PACS monitors, microphones and related peripherals to support customer requirements.

In healthcare, reliability and availability is key. Involve Assist is available to all customers offering 1st line support right up to full 24/7 pro active support, to ensure your audio visual solutions are fully supported at all times.
Involve Assist supports many Healthcare meetings, videoconferences, training and MDT rooms. We understand exactly what it takes to respond to the support needs of Healthcare organisations. Our support is enhanced by ISO9001, 27001 and 20000 accreditations. We also have Cyber Essentials Plus accreditation and NHS Security Toolkit.
Microsoft Teams has swept through the NHS, providing a platform for Trusts to hold their meetings virtually.
As organisations now try to use this platform with dispersed teams spread across remote locations and the meeting spaces in Trusts and CCG's, it has highlighted an issue and left these users with a dilemma.
What about the current kit in our meeting rooms?
MDT and Meeting rooms mostly still have a different technology which, on the surface, is not compatible with Microsoft Teams as they use what is known as "standards based" protocols, whereas Microsoft use a proprietary protocol. This means if the organisation wants to use Microsoft Teams across their existing endpoint estate, action needs to be taken to ensure these devices are compatible with Teams.
Our Solution
The medio.link Teams Interoperability licence allows you to keep the devices already in place and continue to use the kit as you always have, with the added feature of being able to dial into a scheduled Teams call with full voice, video and content sharing capabilities. With this licence, you can turn any MDT or meeting room into a Teams compatible room.
"The MDT solution from Involve is much more reliable than the one we had before, there are significantly fewer breakdowns and the support Involve offers is great so we know if there is a breakdown it will be well-handled. The MDT solution is also much more user-friendly, which meets our initial objectives so we're happy with the work Involve have done."
United Lincolnshire Hospitals
"The MDT solution from Involve is much more reliable than the one we had before, there are significantly fewer breakdowns and the support Involve offers is great so we know if there is a breakdown it will be well-handled. The solution is also much more user-friendly, which meets our initial objectives so we're happy with the work Involve have done."
United Lincolnshire Hospitals
To find out more about
MDT Rooms call
0330 088 3475
Involve Assist Healthcare
Your peace of mind, our responsibility. Involve assist delivers expert advice and service, whenever you need it