Since Induction Healthcare's acquisition of Attend Anywhere lots of exciting new features and functionality have been added to the product set.
The latest update in the software (known as R4) has seen some key roadmap promises added. The first of which is the 'Consult Now' functionality.
Consult Now has been designed so if a customer/patient needs to enter into a video call quickly. Instead of waiting for them to enter the Waiting Area, Consult Now enables a one-time-only link to be sent which brings them straight into a video call without having to enter their details.
Consult Now can be used in several scenarios, for example there may be a need to upgrade from a telephone call to a video call quickly and securely to help diagnose a patient or understand a customers issue in greater detail. The new feature also has the flexibility to be configured per waiting area. If the user wishes to have the Consult Now feature enabled a Consult Now tab will appear in the Waiting Area.
From here a Service Provider can Click the Consult Now button and enter the patient/customers details including a phone number or email address for the invitation to be sent to. The caller then receives the Consult Now invitation link via text message or email. The invitation time can be extended if they are delayed.

After opening the Consult Now invitation link, the caller agrees to the terms and policies and are brought directly into the call screen with the Service Provider. Additional people can be brought into the call (e.g. Translators, family members etc.) using the Invite button from the bottom call screen controls or by entering through the main Waiting Area.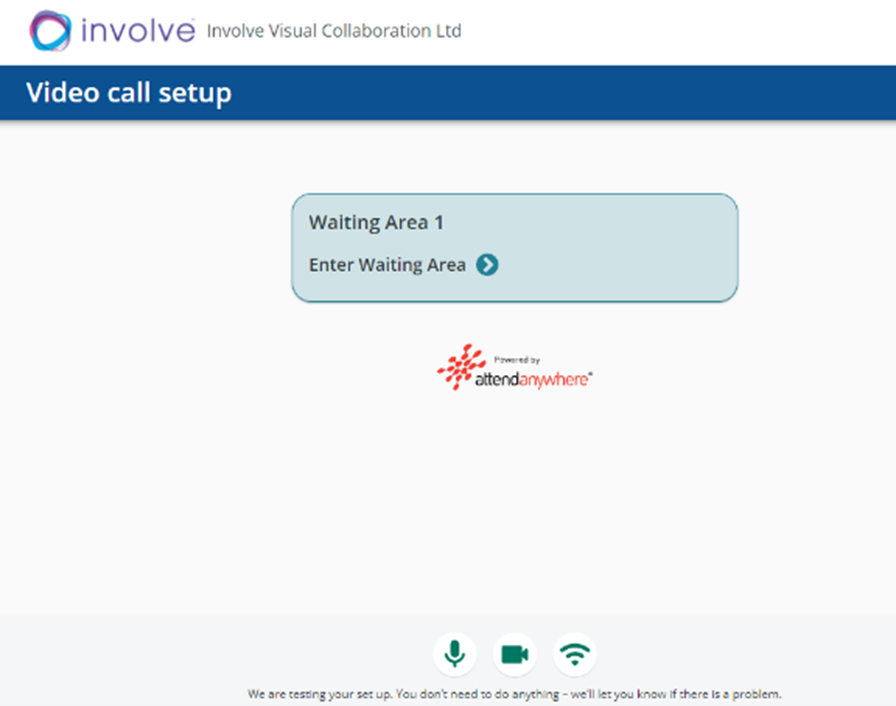 Along with the above The Waiting Area entry has been redesigned with a range of improvements to the user experience, clinical safety, compliance, usability, and accessibility (WCAG AA 2.1).
Advanced connectivity tests now run automatically, and the patient/customer is alerted only if there is a problem. There is also a new standalone test function that can be linked to from your website.  This enables patients/customers to run the setup test sequence in preparation for their appointment without connecting to the Waiting Area.
As Induction continue to invest in Attend Anywhere we will be sure to keep you updated with future software enhancements that have tangibly benefits to your business.