Is your Video platform as secure as you think?
Information Security and protection of data is a topic which has been in the forefront of most Chief Technical Officers and IT Directors minds for some time.  However, with greater visibility and action from the Information Commissioner's Office (ICO) the threat of enforcement, prosecution and fines is ever-increasing and the need to be vigilant about all types of data security exists.
Do I really need data security?
Whilst the likes of British Airways who face a proposed fine of £183 million, Facebook Ireland who were fined £500,000 and Heathrow Airport who were fined £120,00 all for personal data protection breaches may feel like a world apart from public sector, there are further examples of public sector organisations falling foul of regulations too. During the last 12 months, BUPA, the CPS and the IICSA have all been fined for failing to effectively protect data. Also, within the last 12 months the ICO has successfully prosecuted several individuals from within the Healthcare sector for unlawfully accessing records or failing to keep data safe.
How secure is your video call?
When you join a video call to discuss a patient case or refer information, you take for granted that the only people listening to you and accessing your case notes or information are your colleagues on the other end of the call. But are you certain? Does your supplier provide everything you need to gain the level of trust you need?
So, what do you need to look for in your supplier?
It's key that your supplier meets industry standards for data protection across their platform and the top of the list should be ISO 27001. This standard is internationally recognised and provides assurance that your supplier has full control over the security and access of their platform. But, did you know there are other key standards that should be applied to a platform and the supplier running it?
Cyber Essentials plus is a standard provided by the National Cyber Security Centre in the UK. The standard is monitored by an accredited body and ensures the platform meets a set of criteria to remove risks of attacks.
NHS Data and Security Toolkit provides the National Health Service with absolute confidence that your supplier is handling their data with the highest level of security
Ideally, your data would never leave your own network, it doesn't then need to enter the wide world of the Internet. Your supplier needs to be able to deliver calls within the HSCN (Health and Social Care Network) network. This ensures any healthcare information stays within the security of its own network utilising the security of the supplier's platform but also the added security of the HSCN network itself.
To further compliment ISO 27001 your supplier should have ISO 20000 and ISO 9001. ISO 9001 and 20000 provide assurance that the platform and the support given to you meets the highest quality and that the provider is committed to delivering the highest of data security and service
How does Involve deliver security via medio.link?
As an experienced provider of secure video solutions for more than 20 years, Involve meets and exceeds all of the suggested criteria in security and reliability, creating the most secure video platform available for the healthcare industry. Involve is 100% committed to keeping your call and your data safe.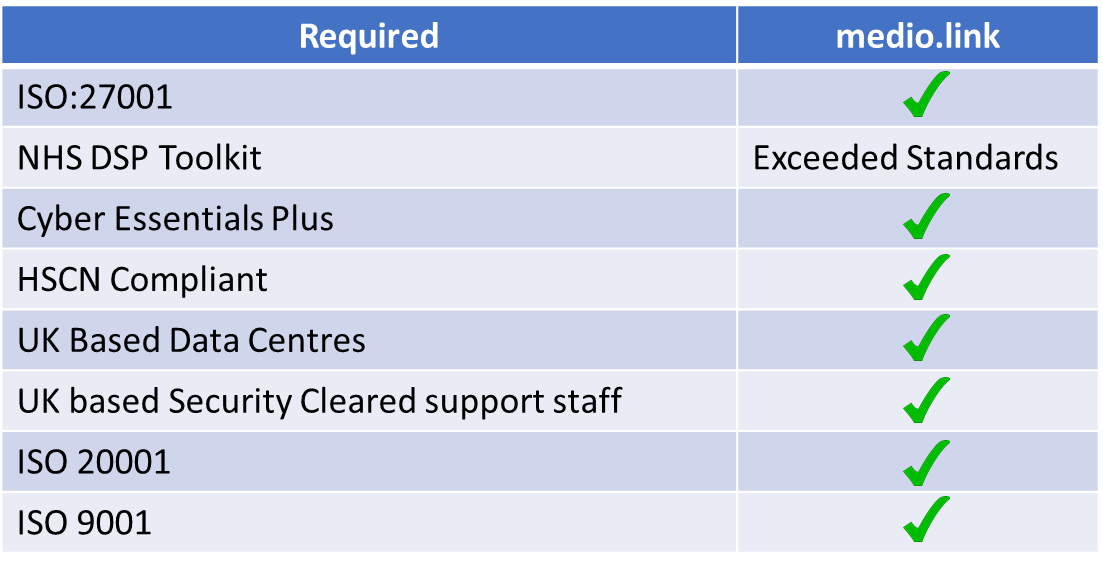 To find out more about medio.link, get in touch now.