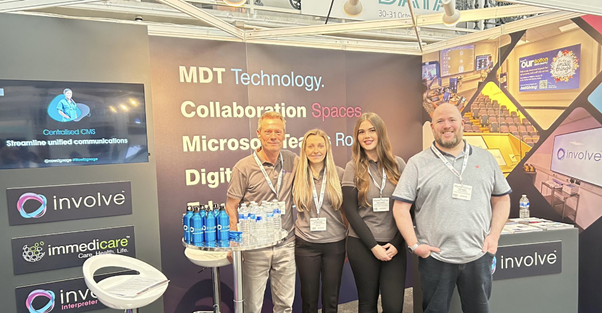 On 14 – 15 March 2023, Involve exhibited at Digital Health ReWired in London for the ultimate learning and networking experience with those who aim to make a difference in UK digital clinical world. ReWired has been labelled 'the most exciting event in UK health IT' and it lived up to expectations.
It was fantastic for the team to be able to connect with numerous people during the busy two days, which would have taken weeks to replicate outside of the exhibition. Rob Farnol, Account Manager at Involve said, "I felt honoured to have the opportunity to talk with pride about the work we do while simultaneously learning so much from the people who rely on our solutions."
Chris Lapthorne said, "Going into the show we were a little bit anxious due to the rail disruptions that week, but it was a fantastic turnout! It was great talking to people from different health organisations about how our video collaboration solutions help them now and can potentially be developed for future projects."
As well as being able to discuss the different services provided by Involve, including MDT technology, collaboration spaces, Microsoft Teams Rooms, digital signage and education centres, the team also gained insight into the rest of the work happening in UK digital health. It was refreshing to see how committed to digital transformation NHS professionals are.
Amy Redfearn, Digital Marketing Manager at Involve said, "ReWired was a brilliant exhibition, the engagement we had from the attendees from the NHS and wider healthcare sector was so beneficial to our team. It feels like events are finally back to their full strength after the pandemic, and ReWired gave us an excellent opportunity to meet with our NHS customers, and see how the Involve Health portfolio can support more NHS organisations with the challenges they are facing."