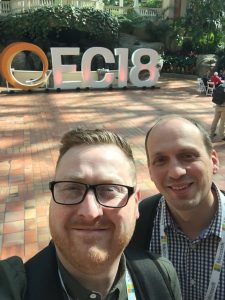 We've now returned from Enterprise Connect in Orlando and settled back into the day to day. The question is, did we achieve what we wanted from the trip??
Overall the trip exceeded our expectations. The Expo Hall was larger than our previous visit and there were some key players on show with some useful updates around their product sets. The key announcement was the continued development of Microsoft Teams and the integration with Third Party suppliers. It's clear that Teams is going to play a huge part for Microsoft over the next 2-3 years and its associated partners and vendors.
The outcome of the show based on our ambitions before we went:
I was looking for key enhancements to further develop our Involve Cloud powered platforms and was able to look at what other vendors were doing in this space. The key around this is the User Experience and allowing customers to join a meeting via one button or no buttons at all. Over the coming months we'll be looking at how we can develop Involve Cloud to introduce this by using technologies like Amazon's Alexa and simplified apps.
In addition to this, I identified that it's vital to keep things simple and consistent when delivering a service to our customers. Not only does this simplify the customer experience it also makes it easier to deploy and support. Look out for some enhancements to our cloud offerings around this in the coming months.
Kev was looking at the key battles that are taking place in the UC industry and specifically Cisco vs Microsoft. "We have 2 giants going head to head and it feels like the industry is leaning massively in favour of Microsoft. Everyone is talking about how they will try to interop for Skype for Business/Teams, this could be because they don't need to try to interop with Cisco as it just works, but it's where all the excitement was. 3rd party vendors seemed to be talking about their kit working in a Microsoft environment not in a Cisco one."
In addition, we did a lot of the sessions/keynotes this time and there were 2 themes based on the sessions we did, team collaboration was one, the 2nd was simple, consistent design and support. The show is excellent and being able to have large scale discussions on how we feel our industry is moving is really beneficial.