What do you do at Involve?
I'm a systems programming specialist, meaning my main function is programming, whether it's control systems or audio systems. I'm also part of the senior engineering team, meaning I get involved with anything technical-related tasks with our engineers.
How did you get into programming?
I've always taken an interest in programming, even from when I was a small lad when it had started to become popular using basic programming, but over the years, I've done more AV. I've got a problem-solving kind of mind, so I enjoy programming.
Favourite Involve memory?
In my 4 years at Involve, I'd say my favourite memory is the whole of 2018 as it was a big year for my career and we got some big projects done, like Great Ormond Street Hospital and SKA which were particularly tricky projects. It's hard to pinpoint one particular memory as it's been a great 4 years, but the social side of Involve is one of the company's main appeals, it's not just a job- it's a way of life. I've been doing AV for over 20 years and I've never worked at a company like Involve, here you're not just made to feel like a worker, you're made to feel valued and part of the family.
What excites you about your job?
That every day is different, the fact that I can make a real difference, and mainly that I get paid to play with geeky technology on a daily basis.
Who's your favourite member of the Involve team?
It has to be Darrin South. Because he's put the effort in to get where he is and he has a passion for what he does, and he also has that passion for Involve. Plus, he tells you as it is!
You're active within the AV community on Twitter. How did your social media journey start?
I signed up for Twitter about 10 years ago but didn't use it until about 2 years ago, once I realised that it was a way of communicating for work and a way of finding out more about the industry. I turned away from using social media for personal use as it's filled with too much drama, so now I only use it on a professional level.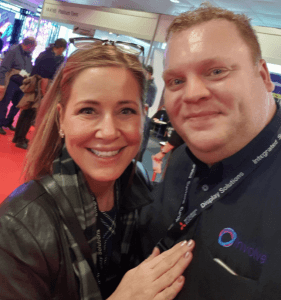 What's your personal highlight of doing social like a pro?
A highlight for me was at ISE last month being able to meet some names I know from social media from the states, that was really cool. Especially meeting Michelle Loret!
A fun fact about yourself?
I used to be a football referee and I got to referee at some cool places. I was the last ever referee to
referee a competitive game of football at Highfield Road, Coventry City's old stadium, and the first ever non-professional referee to referee a game at Coventry City's new stadium, Ricoh arena. A big game I have refereed is Manchester City Ladies vs Coventry City Ladies, plus I've refereed in a match where the game had to be stopped as 300 spectators were fighting. I refereed Coventry City vs Swindon Town and I sent off the Swindon Town captain after 20 minutes and received 3 years of abuse for ruining the game, until the DVD of the game came out, showing the Swindon caption kneeing the goalkeeper deliberately in the head. I have also refereed Chris Smalling at youth level.
Favourite childhood memory?
My Grandad taking me to watch the wrestling once a month in Lemington where I grew up. Another one is my aunt was training to become a midwife at Queen Elizabeth hospital in Birmingham, so my sister and I would spend some weekends and school holidays with her and we'd go into Birmingham, to the Bullring and would get spoilt rotten as she didn't have kids of her own.
What do you do as a hobby?
Being Dad to a 5 and 7-year-old and continue being a geek. Essentially, I have an interest in what I do for work at a personal level so even in my spare time I will look at coding and technology, so basically I continue to geek-out even after work.
Give Steve a follow on Twitter @SteveAshby82 or watch him discuss Voice Control in Business in this episode of AV JAM: